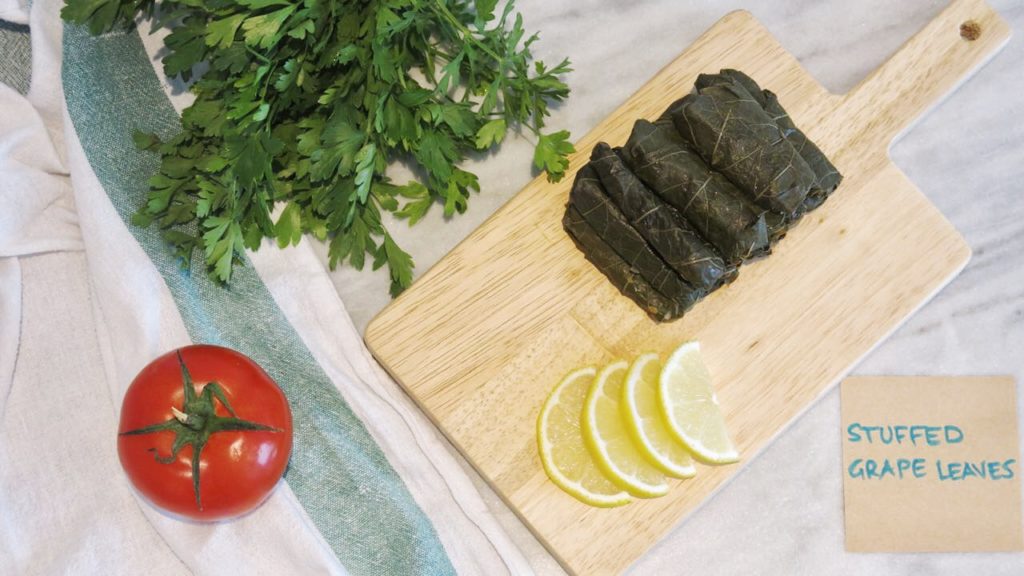 WHAT YOU NEED
¼ cup coarse burghul
2 tomatoes, thinly diced
1 bunch parsley, finely chopped
10 pieces mint, finely chopped
1 small onion, thinly chopped
Juice of 1 big lemon
3 TBSPs olive oil
1 TSP salt
Black pepper
40 grape leaves
2 potatoes, cut round (optional)
INSTRUCTIONS
Rinse the grape leaves well under cold water (I got the grape leaves in a jar). Then in a large saucepan, boil water and cook the grape leaves in the water for 10-15 minutes. Remove the leaves and drain.
Wash the burghul well and soak it in water for 10 minutes then drain. In a mixing bowl, prepare the filling mix by combining the tomatoes, parsley, onion, mint leaves (all chopped and thinly diced), lemon juice, burghul, olive oil, salt and black pepper.
Prepare a grape leave on a work surface with the shiny side down. Remove the small stem and stuff each leave with one TBSP of the filling while keeping at least 1 cm from each side of the leave empty. Fold the edges and roll each leave until it is completely rolled up.
Once all the grape leaves are stuffed, in a large non-stick pan, arrange the stuffed grape leaves one side by side to the other tightly packed, and once the bottom of the saucepan is full, arrange another layer of stuffed grape leaves on top of them until all of them are inside the saucepan. If adding potatoes, arrange the potatoes on top (you can also arrange them at the bottom, but I felt the grape leaves hold on better being the first layer at the bottom). Spray 1 TSP salt on top, and cover with a dish resistant to heat. Place on top of the dish something heavy to hold it well – I used a wooden mortar. Using one hand, press the mortar down and add boiling water just enough to cover the potatoes. Then add the remaining juice from the filling. Bring to a boil, reduce heat to low and simmer over low heat for around 45 minutes. Keep checking on the potatoes; once cooked, you're good to go!
Carefully remove the heatproof dish and remove the potatoes and the stuffed grape leaves from the heat. Serve warm or cold. Enjoy and Bon Appétit!
---
---